Like most music festivals, the Sabaton Open Air had to be postponed to 2020 and 2021, due to the corona pandemic. The 2022 edition is therefore in a way a return for Sabaton's own festival in their hometown of Falun. And for me, it's the first time I visit a festival in Sweden. I had a lot of worries before. On the one hand, I don't believe that the corona pandemic is quite over yet. And on the other hand, long before the corona pandemic, it became common for bands to cancel their concert at a festival, sometimes at the very last minute. As a result of this development, it was only on the day of the pre-party that I finally decided to visit the actual festival the next day. With my two favorite bands – dead stars and Tiamat – playing on the same day, attending a festival day would actually have been enough, but seeing a band like Myrathe (which was due to play two days later) was also tempting, and so it ended up lasting the three days of the festival.
The actual festival begins on Thursday afternoon with a signing session with Sabaton. A clever move. SabatonThe performance of is scheduled for Saturday night, so the most dedicated Sabaton fans will not buy a daily ticket for Saturday only, but rather opt for a 3-day ticket, since they also wish to attend this autograph session. Having things arranged like this not only increases the financial benefits, but also benefits all other live bands, especially the lesser known ones for whom it has become increasingly difficult to gain attention and reach an audience in the midst of all the sensory overload and oversupply in today's world. In addition, the security barriers are installed in such a way that the huge queue has to pass in front of the merchandise stand. There you can mainly buy goods from Sabatonincluding offers such as "Buy New Sabaton tour shirt and get an old one for just 100 SEK". Again, very clever. As the queue is – as expected – huge, there is a "one autograph per person" policy. This ensures that anyone who wants an autograph from Sabaton finds himself without an autograph of Sabaton. It also seems very well organized and very professional, and after about an hour and a half no one is disappointed because EVERYONE has gotten their autographs.
In terms of fashion, Sabaton group shirts dominate the public by far. There are even lookalikes of Sabaton leader Joakim Brodén; some of them barely younger than the original, it seems. And the dominant language is German. The Swedish national language as well as other languages ​​such as Finnish, English and French can only be heard sporadically.
During the signing session with Sabatonthe first two concerts also take place: Tungsten and dark tranquility. As the two stages are side by side and equally well visible from the signing tent, you never really miss anything of the current program, and yet there is so much going on during SabatonThe signing session that said the concerts just pass me by.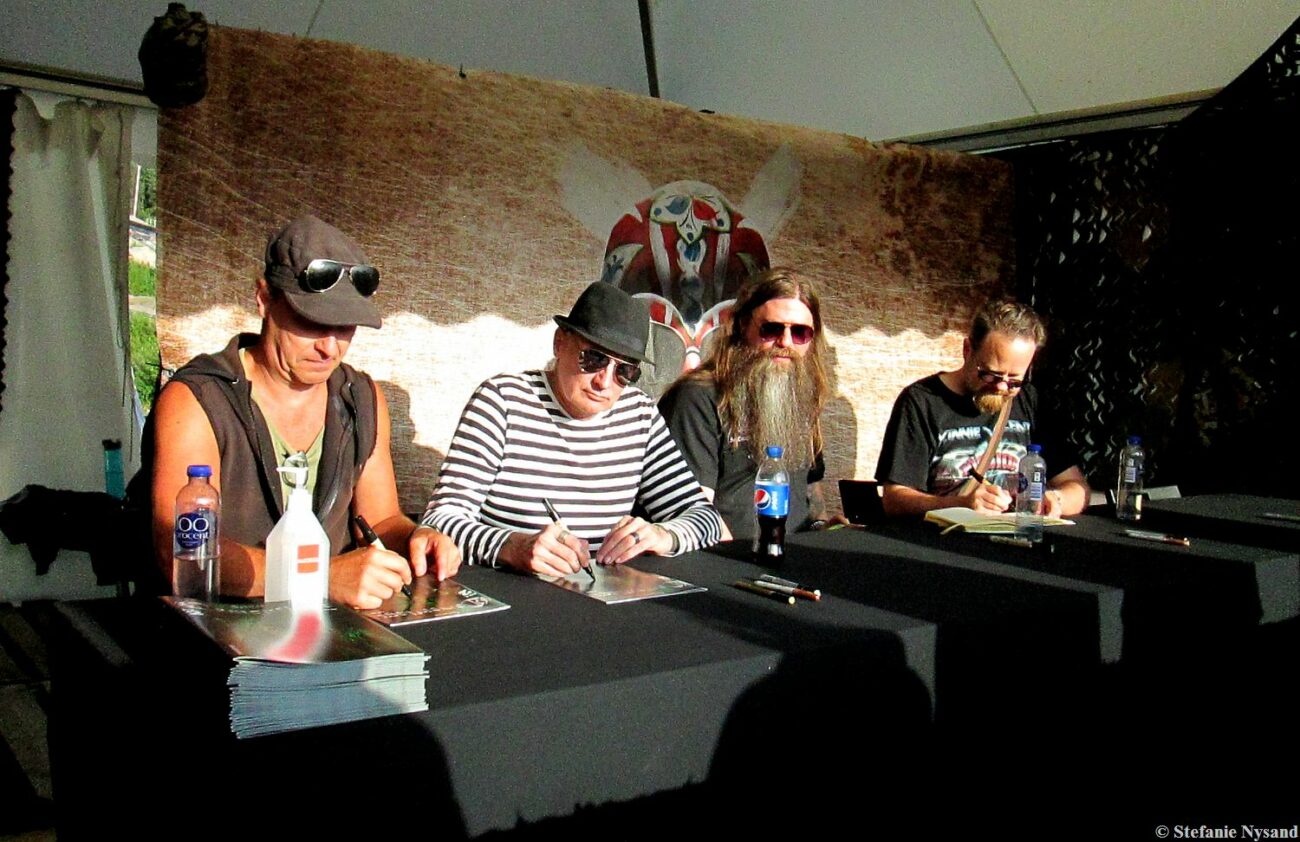 The signing session with Sabaton is followed by another signing session; the one I expected the most, namely Tiamat's. It quickly turns out that these two signings couldn't be more different: about 20 fans show up, and after less than 10 minutes the whole band is gone and the signing is over. It's strange to say the least, especially since the contrast with SabatonThe signing of is so extreme and obvious. I'm really sorry for the group.
The third and final autograph session of the day will be hosted by dark tranquilitybut at this point, it's time to head to the scenes.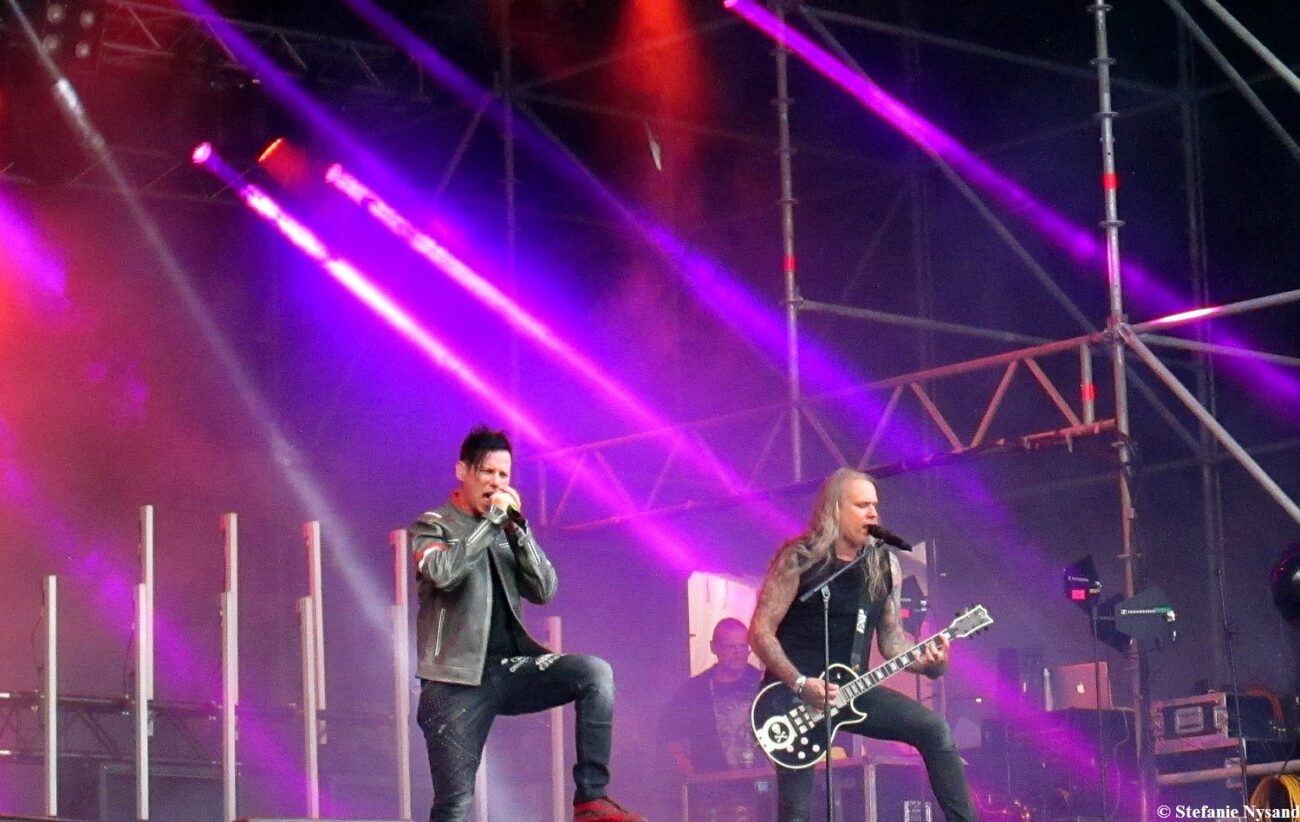 The third group performing today, Cyhra, is a Swedish heavy metal supergroup. Or as the group around frontman Joacim "Jake E" Lundberg describes it: "You've known them for In fire, Amaranth, Bright, Rhapsody, Annihilator & Kamelot but you've never seen them together like this. Cyhra is here to bring you the next thing in metal. The public seems to like it. Songs like "Heartrage" and "man of eternal rain» are well received, and above all «battle within", which speaks of the suicide of the brother of Jake E, does not leave anyone indifferent in the public.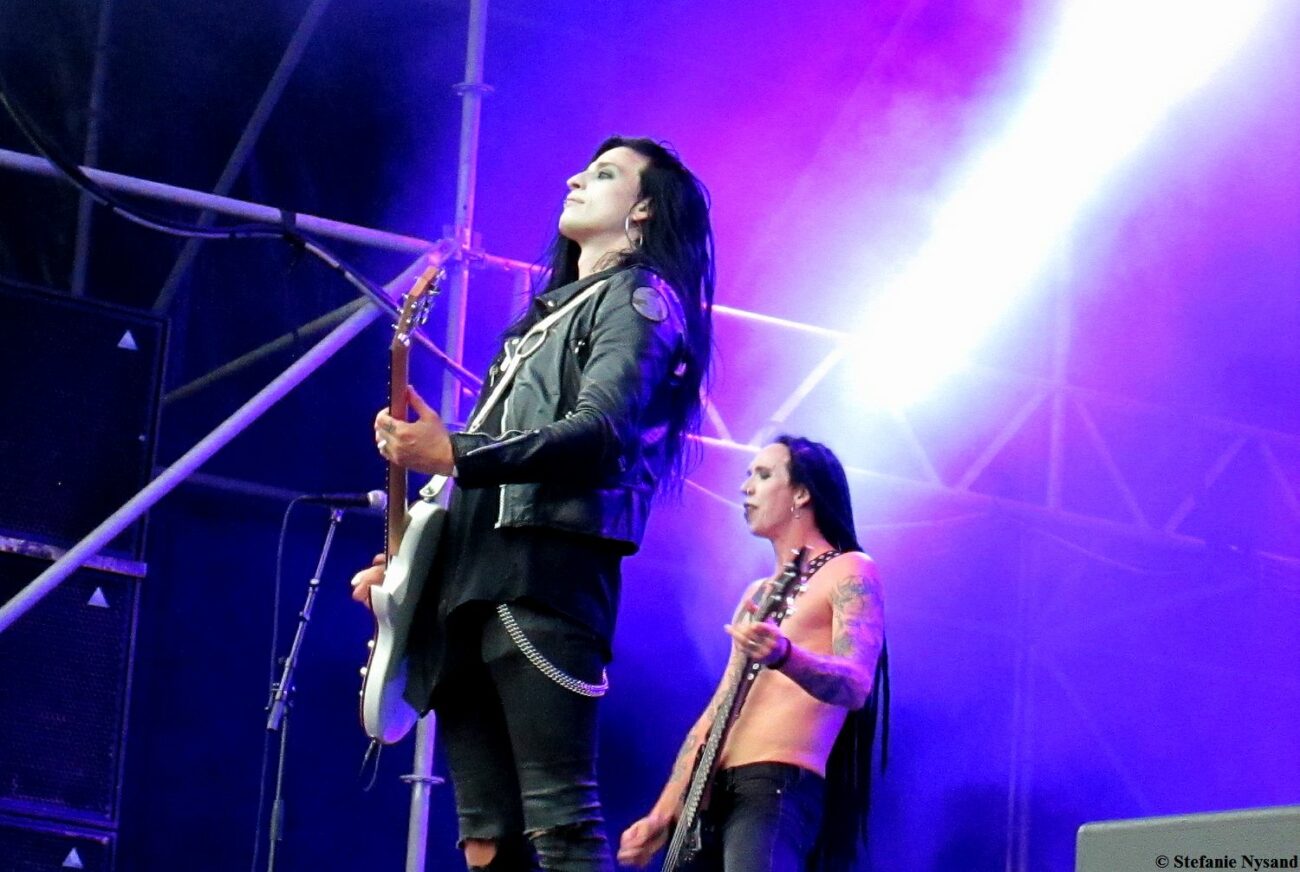 Then it's time for my first personal highlight at Sabaton Open Air 2022: The performance of the masters of death glam from Stockholm, the Swedish capital, dead stars. The group became a quintet again after the return of guitarist Cat Casino dead stars in 2019. There is also a new man behind the drums, Marcus Johansson of the Swedish group Reachwho follows in the footsteps of Oscar "Vice" Leander after the latter joined Tribulation in 2017. The set is opened with "Night Electric Night», and Whiplasher Bernadotte (vocals), Nightmare Industries (guitar and keyboards), Skinny Disco (bass) and Cat burst on stage from the first moment. We could sum up the show with these words: "They came; they saw; they conquered". From "Synthetic Generation" ("Semi-automatic", "Synthetic Generation") to "Termination Bliss" ("Languages", "Cyanide") and "Electric Night Night" ("Death dies hard", "Chertograd","Blondes with bloodstains") to "The Perfect Worship" ("The Perfect Worship"), the setlist contains the industrial metal of all the albums that dead stars have released so far, including the band's best-of album "The Greatest Hits On Earth" ("METAL"). A fifth studio album has been in the works since 2019 and was originally scheduled for release in early 2020, but has since been postponed several times. Unfortunately, none of the new material will be featured today either, but that doesn't take away nothing to joy. During today's performance, "Blitzkrieg" is the most popular song anyway. After all, we are in Sabaton Open Air; it fits. Seeing how Cat acts as an audience entertainer, one can only agree with dead stars' declaring that he is "a key figure in the history of the group". It's good to see him back in the group. Like always, dead stars put on a great show, and it would have been nice if it lasted a bit longer.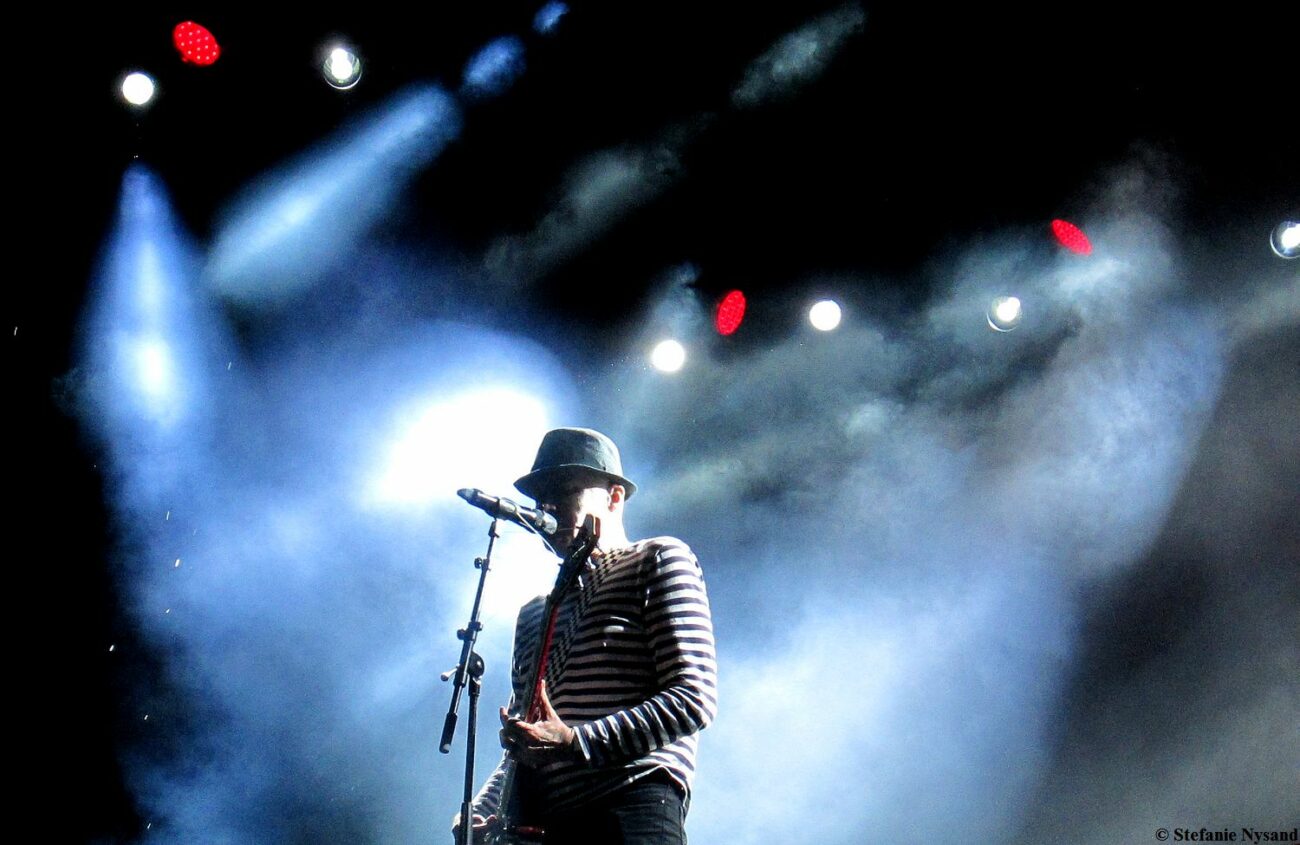 I have no reason to complain, however, since my second personal highlight at Sabaton Open Air 2022 follows right after the concert of dead stars: The performance of Tiamat. Or to put it with the lines of Tiamat's"The Temple of the Crescent Moon"It's been thirteen and a half long years 'of thunder, lightning and rain'. It has become dark in the meantime, and there is not much light while checking the sound of Tiamat That is. The audience is also shrinking. Then the actual set begins with a little light and "The Arfrom their 1994 release "Wildhoney." During their 35-year career, the Swedes have changed their musical style several times. To put it very simply, Tiamat initially played doom metal before moving into gothic rock with their 1997 release "A Deeper Kind Of Slumber". So far I have only participated in Tiamat concerts where the setlists were dominated by goth rock compositions, and that's how I fell in love with their music in the first place. Doom metal in general has never been my cup of tea, and ever since I got to know Tiamat as a goth band, i tend to forget their earlier work. Of course, many Tiamat fans see it the other way around, and "Wildhoney" in particular is highly regarded when it comes to the band's discography. Well, there is no account for taste. It takes a while before I recognize one of the songs ("Split"), but not before "Vote for love"I'm really happy. Finally a goth rock song! It continues with doom metal ("The Sleeping Beauty") before the concert ended almost as suddenly as the signing a few hours ago. I'm speechless and, to be honest, a bit disappointed.
It takes a while before I start to understand why things went the way they did during Tiamat. The group itself never announced its appearance at Sabaton Open Air 2022, nor did it announce its appearance at Wacken Open Air 2022 on the same weekend. On the contrary, their facebook page indicates that Tiamat is "temporarily closed", while there are announcements for some concerts in September 2022. In the comments, a fan wonders about the band's status, and another believes that the departure of frontman Johan Edlund in April 2014 is still relevant. In other words: communication and marketing skills leave a lot to be desired. You may be the biggest band in the world, but if your own fans don't know when and where you play (or that you're still active), they won't be there either. It's that simple.
Before the end of the evening, there are two groups left to play. It suddenly got quite cold, so most of the performances of Balance passes us as we search for a warmer place to stay.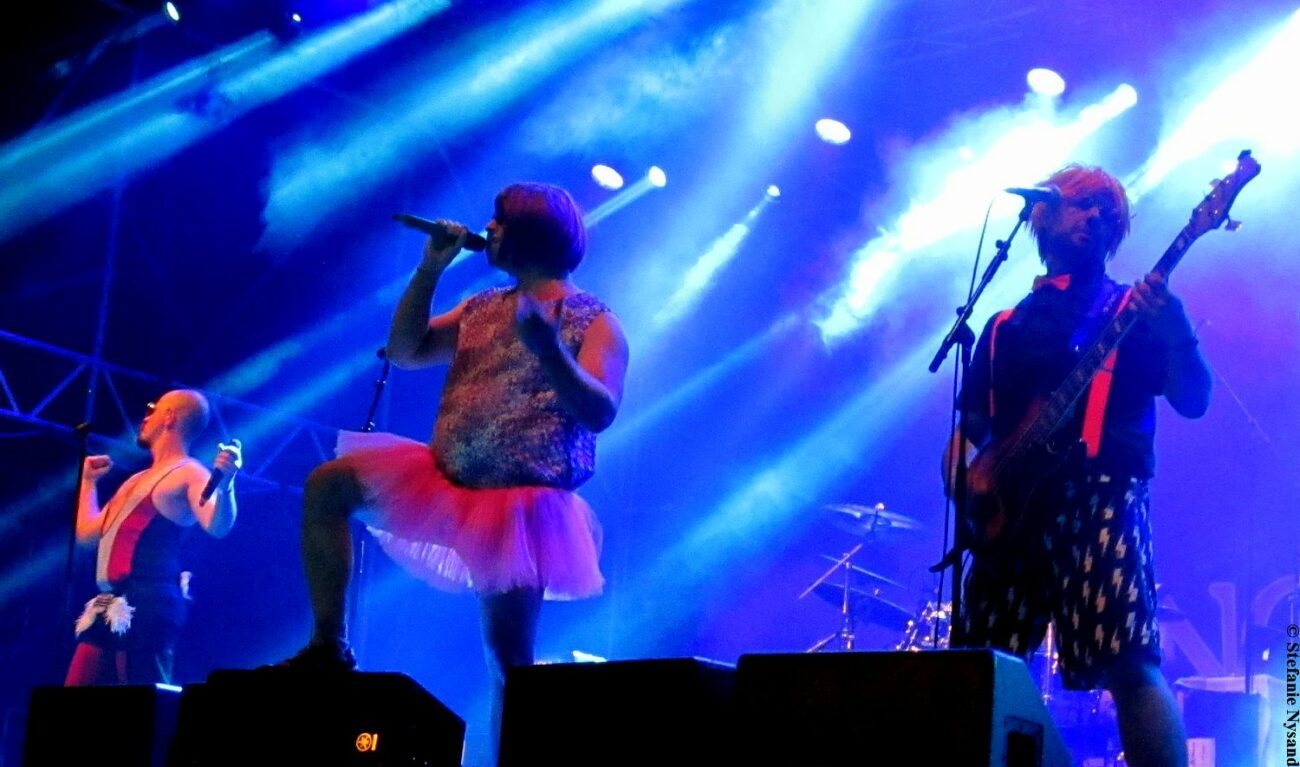 The last group of today's program, Steel Nanowar from Italy it is said to be funny and entertaining, so maybe just what one needs while being disappointed and cold. And, indeed: men with colorful wigs and rather random outfits enter the scene. They look anything but metal, and that's exactly the point of Steel Nanowar. As one might guess, "Nanowar" is a pun on the real metal band Manowar. And "Of Steel" was only added to the band's name when the Italian power metal band Rhapsody had to change the name of their band from Rhapsody at Fire Rhapsody in 2006, due to copyright and trademark issues. The songs and the rhythm of the scene are a satire of real metal. During "Valhallelujah", a Christmas song that combines heavy metal and gospel and is dedicated to both Odin and IKEA, singer Potowotominimak ceremoniously assembles an IKEA side table before it is offered to the public. And during "armpits of immortals», the public learns a certain choreography. It's really refreshing to see a band like Steel Nanowar play Sabaton Open Air, especially when you know how narrow-minded some metalheads can be. The quintet interacts a lot with the audience, but despite all the parody, they live up to their role models musically. No one less than the old Fire Rhapsody singer Fabio Lione seems to agree. After all, he collaborated with Steel Nanowar on their song"Twilight Princess MILF Barbie".
A worthy end to the first evening. The temperature continued to drop, but morale rose. And best of all: contrary to the initial plan to visit the festival only this Thursday, we still have two days of Sabaton Open Air ahead of us. The party is therefore not over. To be continued…